Description
Solid 18oz. Vinyl Tops and Covers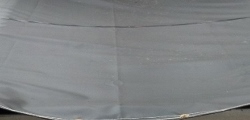 This is a premium product – if you need the very best for weather protection this solid vinyl cover is for you.
There are thousands of uses for the Solid 18oz. Vinyl Cover:
Horse Feed Shelters
Kennel Top
Side Walls For Barns
Pond Covers
The list is endless……….
All of the covers and tops have sewn hems and bindings. We place grommets every two feet as practical.
We can custom sew the exact sizes that are needed for our customers. Call us today for weather protection.