Description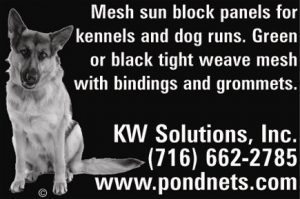 Our shade panels and covers provide the necessary shade to protect your pet from the intense Sun, Rain, Winds and Snow.
Our covers are made from Solid UV Stabilized Woven Polyethylene Mesh with a 70% – 80% shade factor.
This UV coated tight weave mesh will give your pet a cooler place to go while outside. When you use our Pet Shade Panels on a side fence it will reduce the wind speeds and chills in the kennel and dog runs.
Our Premium 70% – 80% shade factor material will reduce the temperature as much as 15 degrees. The color is a pleasant green black weave. (Black and White are also available)
All of our Pet Shade Panels are cut and sewn in the USA. Each panel has a sewn reinforced binding around the outside edges for strength. Also heavy duty brass grommets are placed every 2 feet.
Installation is very easy to do for the homeowner.
Using the enclosed wire ties, start at one corner and zip tie it to the fencing. Pull the other corners tight and install the wire ties on the remaining grommets. You may also upgrade to the Heavy Duty Hook and Loop tie downs sold on our site.
Uses Include:
Yard Fence
Dog Pens
All Kennels
Dog and Cat Cages
Horse Stabels
Privacy Fence
Where Ever Shade Is Needed
"Don't Forget To Shade The Pet That Loves You"
Custom sized shade panels can be ordered in any shape and size. Call us or e-mail us for pricing on all custom sizes.